It will be a quiet, fair and mild Friday. Generally, more cloud in the west, damp for some coasts but brighter with sunshine to the east. The cloud thickens and increases over much of England and Wales although gaps remain overnight for northern England. More mixed for Northern Ireland and Scotland with clear spells in the east but the frontal rain keeps on going. By Saturday morning it begins to shift southwards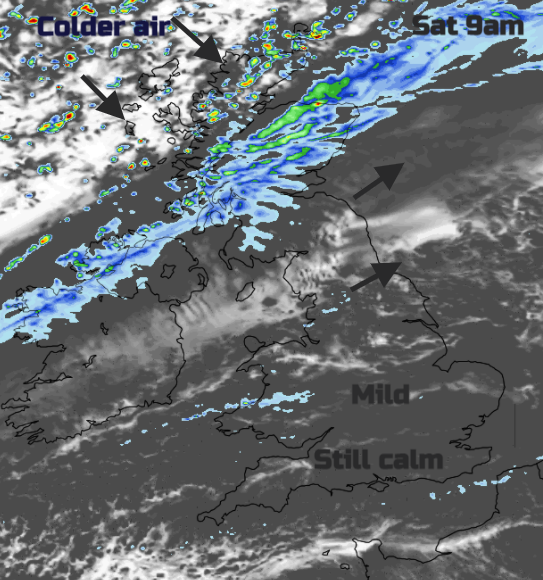 This cold front introduces the first change to colder air for the UK. Just ahead of it there will still be blustery winds with lee gusts. Behind the winds veer to the northwest and it will feel cooler on Saturday. The frontal rain moves south through Northern Ireland and Scotland and reaches the borders at lunchtime. Southern Britain will have another quiet day, still mild and often grey. The rain will reach north Wales around teatime with clear skies to the north.
SE England could still be at 6C on Sunday morning as the frontal cloud and patchy rain will only just be clearing southern England Scotland will see a frost to start the day inland and there will have been snow showers over the mountains by night. There could be a few wintry showers for exposed areas caught in the flow early on Sunday, icy rain and hail with snow flurries, but the shower activity will be easing.
High pressure will be building in south of Iceland and for most Sunday will be a fine, sunny autumn day with a nip in the air but a noticeable cold north wind. So, air temperatures of 6 or 7C will feel more like 2 or 3C.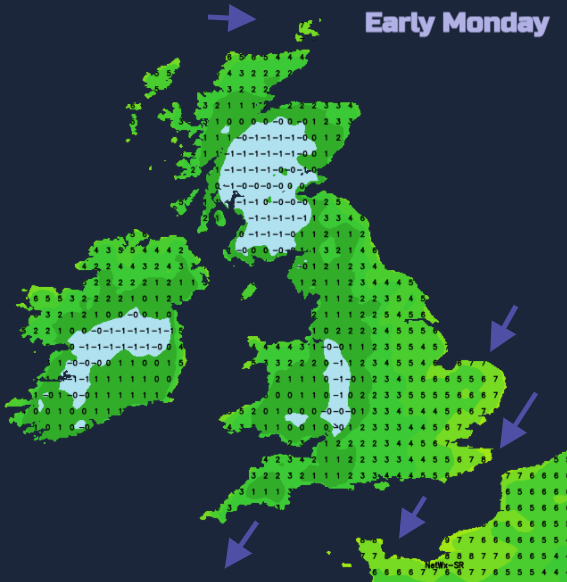 The cold north wind keeps going during Sunday night for eastern and southern Britain but elsewhere there will be frost. Later in the week, with even colder air, there looks to be further bouts of cold north or NW winds and more widespread frost. Snow? NW and northern Scotland look most prone in this flow and are likely to see some snow. Also snow showers for north coast Northern Ireland, north Wales, maybe clipping North Yorkshire coast. Otherwise, we'll just have to wait until nearer the time. Time to find some de-icer.

Courtesy of Netweather.tv